Tokyo By Kenzo
Men Fragrance
Tokyo by Kenzo: a Kenzo fragrance launched in 2007 with notes of green tea, pink pepper, cedar, nutmeg, grapefruit, ginger and orange.
Green Tea Plant

Green tea is made from the leaves from Camellia sinensis that have undergone minimal oxidation during processing. Green tea originates in China, but it has become associated with many cultures throughout Asia. Green tea has recently become more widespread in the West. Green tea has become the raw material for extracts which are used in various beverages, health foods, dietary supplements.
Many varieties of green tea have been created in the countries where it is grown. These varieties can differ substantially due to variable growing conditions, horticulture, production processing, and harvesting time.
                                                                                                                  Tokyo By Kenzo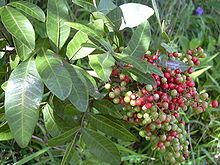 Pink Pepper Plant

A pink peppercorn is a dried berry of the shrub Schinus molle, commonly known as the Peruvian pepper tree. Although a peppercorn is the dried fruit of a plant from the genus Piper, pink peppercorns came to be called such because they resemble peppercorns, and because they, too, have a peppery flavor. Dried berries from the related species Schinus terebinthifolius (the Brazilian pepper), are sometimes also called pink peppercorns (baies roses de Bourbon). The dried berries of that shrub are employed as culinary spice.
In 1982, the Food and Drug Administration (FDA) of the United States banned the import of Brazilian peppercorns from France into the US, asserting that people who eat the berries risk an array of acute symptoms, such as swollen eyelids and indigestion. In response, the Government of France maintained that the berries are safe to eat if grown in prescribed conditions. The United States later lifted the ban.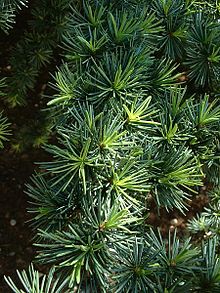 Cedar Tree

Cedar-wood oil, is an essential oil derived from the foliage, and sometimes the wood and roots. It has many uses in medicine, art, industry and perfumery and while the characteristics of oils derived from various species may themselves vary, all have some degree of bactericidal and pesticidal effects. Cedar-wood oils each have characteristic woody odors which may change somewhat in the course of drying out. The crude oils are often yellowish or even darker in color and some, such as Texas cedar-wood oil are quite viscous and deposit crystals on standing.
They find use (sometimes after rectification) in a range of fragrance applications such as soap, Tokyo by Kenzo cologne/perfumery, household sprays, floor polishes and insecticides.
Nutmeg Tree

The nutmeg tree is any of several species of trees in genus Myristica. The most important commercial species is Myristica fragrans, an evergreen tree indigenous to the Banda Islands in the Moluccas (or Spice Islands) of Indonesia. This is the only tropical fruit that is the source of two different spices. Several other commercial products are also produced from the trees, including essential oils, extracted oleoresins, and nutmeg butter.
The essential oil is obtained by the steam distillation of ground nutmeg and is used heavily in the perfumery and pharmaceutical industries. The oil is colorless or light yellow and smells and tastes of nutmeg. It contains numerous components of interest to the oleochemical industry, and is used as a natural food flavoring in baked goods, syrups, beverages, sweets etc. It replaces ground nutmeg as it leaves no particles in the food.
The essential oil is also used in the cosmetic and pharmaceutical industries for instance in tooth paste and as a major ingredient in some cough syrups. In traditional medicine nutmeg and nutmeg oil were used for illnesses related to the nervous and digestive systems. Myristicin in the essential oil is actually not the agent responsible for the hallucinogenic properties of nutmeg oil, the chemical known as Elemicin is a non-toxic, relatively safe psychoactive similar to Mescaline.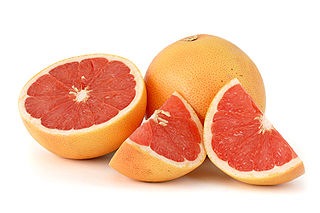 Grapefruit
The essential oil is extracted from the rind of the citrus and used in the production of cologne, more often commercially used grapefruit aromatics are artificially made, and contain 90% limonene.
Ginger Field And Tokyo By Kenzo

Ginger or ginger root is the rhizome of the plant Zingiber officinale, consumed as a delicacy, medicine, or spice. It lends its name to its genus and family (Zingiberaceae). Other notable members of this plant family are turmeric, cardamom, and galangal Nerolidol, also known as peruviol, is a naturally occurring sesquiterpene found in the essential oils of many types of plants and flowers. There are two isomers of nerolidol, cis and trans, which differ in the geometry about the central double bond.
Nerolidol is present in neroli, ginger, jasmine, lavender, tea tree, Cannabis Sativa, and lemon grass. The aroma of nerolidol is woody and reminiscent of fresh bark. It is used as a flavoring agent and in perfumery as a man fragrance. It is also currently under testing as a skin penetration enhancer for the transdermal delivery of therapeutic drugs.
Orange Aroma

Orange oil is an essential oil produced by cells within the rind of an orange fruit. In contrast to most essential oils, it is extracted as a by-product of orange juice production by centrifugation,  producing a cold-pressed oil. It is composed of mostly (greater than 90%) d-limonene,  and is often used in place of pure d-limonene. D-limonene can be extracted from the oil by distillation. Limonene gives citrus fruit their familiar aroma, and is therefore used in Tokyo by Kenzo cologne for men/perfume for its fragrance.
Tokyo by Kenzo > Back to Kenzo Takada the biography
Cologne Reality > Back To Home Page