Fairy Dust
Women' Fragrance
Fairy Dust; a Paris Hilton fragrance launched in 2008. A women's perfume bursting with brilliant fragrant notes of pink peony, orange blossom, spring gardenia, vanilla cream, peach nectar, water lily, cashmere musk, sparkling prosecco accord and sueded patchouli.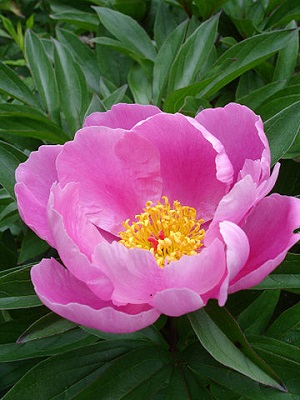 Pink Peony Flower

Paeonia lactiflora (Chinese peony or common garden peony) is a species of herbaceous perennial flowering plant in the family Paeoniaceae, native to central and eastern Asia from eastern Tibet across northern China to eastern Siberia. It is 50–70 cm (20–28 in) tall and broad, with 9-lobed leaves 20–40 cm (8–16 in) long. The flower buds appear in late spring (May in the Northern Hemisphere). They are large and round, opening into fragrant, cup- or bowl-shaped flowers 8–16 cm (3–6 in) in diameter, with 5-10 white, pink, or crimson petals and yellow stamens. P. lactiflora was known as the white peony (P. albiflora) when first introduced into Europe.
It was brought to England in the mid-18th century, and is the parent of most modern varieties. There are several hundred selected cultivars in a range of colors, sizes and forms; many have double flowers, with the stamens modified into additional petals. There are many colors now available, from pure milk white, to pink, rose, and near red, along with single to fully double forms. They are prolific bloomers, and have become the main source of peonies for the cut flower business.
                                                                                                                     Fairy Dust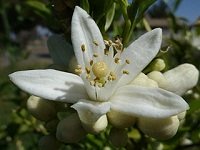 Orange Blossom Flower

The Orange blossom is the fragrant flower of the (orange tree). It is used in perfume making, has been written about as an aphrodisiac and is the state flower of Florida. It is traditionally associated with good fortune and has been popular in bridal bouquets and head wreaths for weddings. Orange blossom essence is an important component in the making of Fairy Dust women's perfume/perfumery.
The petals of orange blossom can also be made into a delicately citrus-scented version of rosewater; orange blossom water (aka orange flower water), a common part of both French cuisine and Middle Eastern cuisine (most often as an ingredient in desserts and baked goods).In the United States, orange flower water is used to make orange blossom scones and marshmallows.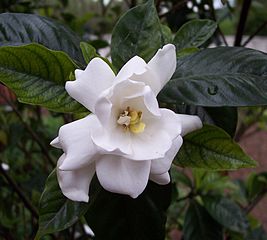 Tahitian Gardenia Flower

Gardenia taitensis (also called Tahitian Gardenia or Tiaré Flower) is a species of plant in the Rubiaceae family. It is an evergreen tropical shrub that grows to 4 m tall, it has glossy dark green leaves (5–16 cm long) that are oppositely arranged along the stem. The flower is creamy white, pinwheel-shaped with 5 to 9 lobes (each lobe 2–4 cm long) and very fragrant. Native to the highland shores of the South Pacific, it has the distinction of being one of the few cultivated plants native to Polynesia.
It is the national flower of French Polynesia and the Cook Islands.The name Tahitian Gardenia is somewhat a misnomer because it is neither native nor naturalised in Tahiti. The first acceptable scientific name for the plant was based on Tahitian specimens collected by Jules Dumont d'Urville in 1824. Hence the scientific name of Gardenia taitensis, and the English name of Tahitian Gardenia or Tiaré Flower. It was first collected in Tahiti, by the Forsters on Captain Cook's first Pacific voyage (1768–1771), although it was misidentified as Gardenia florida.
The plant originates from Melanesia and Western Polynesia. It is an aboriginal introduction to the Cook Islands and French Polynesia and possibly Hawaii. Polynesian people in the pacific islands use the extremely fragrant blooms in their flower necklaces, which are called "Ei" in the Cook Islands, "Hei" in Tahiti or "Lei" in Hawai'i. In some Pacific island traditions, wearing a flower indicates relationship status.
A flower worn on the left ear means the person is taken and on the right ear means available. The plant is believed to have medicinal properties to treat several ailments. In Tonga a bark infusion is dripped into the nose, eyes and mouth to treat "ghost sickness". In Samoa parts of the plant are used to treat inflammation. The flower is used to make Monoi Tiare Tahiti, a perfume-oil made by infusing the blossoms in coconut oil (see enfleurage).Tiare is also used in niche perfumery but its prohibitively high cost excludes use in commercial perfumery and Fairy Dust production. Notable examples include
Tiare by Ormonde Jayne launched in 2009 and Tiare by Chantecaille. The Tiare flowers are hand picked and then laid unopened in oil for 15 days to obtain the extract.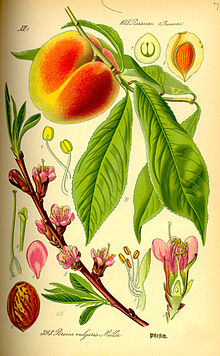 Peach Plant Drawing

The peach is a deciduous tree, native to North-West China, in the region between the Tarim basin and the north slopes of the Kunlun Shan mountains, where it was first domesticated and cultivated. It bears an edible juicy fruit also called a peach. The species name persica refers to its widespread cultivation in Persia, whence it was transplanted to Europe. It belongs to the genus Prunus which includes the cherry and plum, in the family Rosaceae.
The peach is classified with the almond in the subgenus Amygdalus, distinguished from the other subgenera by the corrugated seed shell. More than 80 chemical compounds contribute to the peach aroma. Among others are found C6 gamma-lactones, C8 and C10 (gamma-decalactone), C10 delta-lactone, several esters (such as linalyl butyrate or linalyl formate), acids and alcohols, and benzaldehyde.
Fairy Dust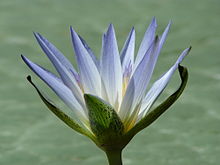 Blue Egyptian Water Lily And Fairy Dust

Blue Egyptian water lily or sacred blue lily, is a water-lily. In modern culture, blue lotus flowers are used to make various concoctions including blue lotus tea, wine and martinis. Recipes for such drinks involve steeping or soaking the petals, about 10–20 grams for up to three weeks. Blue lotus 'tea' is prepared by boiling the entire flower for 10–20 minutes. Recent studies have shown it to have mild psycho-active properties.
It may have been used as a sacrament in ancient Egypt and certain ancient South American cultures. Eating Blue Lotus can act as a mild sedative. Nymphaea caerulea is distantly related to, and possesses similar activity to Nelumbo nucifera, the Sacred  Lotus. Both Nymphaea caerulea and Nelumbo nucifera contain the alkaloids nuciferine and aporphine.
The mildly sedating effects of Nymphaea caerulea makes it a likely candidate (among several) for the lotus plant eaten by the mythical Lotohagi in Homer's Odyssey. This lotus is used to produce perfumes since ancient times. Used in aromatherapy, it is purported to have a "divine" essence, bringing heightened awareness and tranquility.
                                                                                             Fairy Dust Women's Cologne

Vanilla Cream Aroma

Vanilla is a flavor derived from orchids of the genus Vanilla, primarily from the Mexican species, flat-leaved vanilla (V. planifolia). The word vanilla, derived from the diminutive of the Spanish word vaina (vaina itself meaning sheath or pod), simply translates as little pod. Vanilla is the second most expensive spice after saffron, because growing the vanilla seed pods is labor-intensive. Despite the expense, vanilla is highly valued for its flavor, which author Frederic Rosengarten, Jr. described in The Book of Spices as "pure, spicy, and delicate"; he called its complex floral aroma a "peculiar bouquet".
As a result, vanilla/vanillin is widely used in both commercial and domestic baking, Fairy Dust perfume for women manufacture and aromatherapy. Vanillin is a phenolic aldehyde, which is an organic compound with the molecular formula C8H8O3. Its functional groups include aldehyde, hydroxyl, and ether. It is the primary component of the extract of the vanilla bean. Synthetic vanillin, instead of natural vanilla extract, is now more often used as a flavoring agent in foods, beverages, and pharmaceuticals.
The largest use of vanillin is as a flavoring, usually in sweet foods. The ice cream and chocolate industries together comprise 75% of the market for vanillin as a flavoring, with smaller amounts being used in confections and baked goods.Vanillin is also used in the fragrance industry, in perfumes. Vanilla Cream or bourbon vanilla is produced from V. planifolia plants introduced from the Americas.
Fairy Dust > Back To Paris Hilton Biography
Cologne Reality > Back to Home Page